Our Chemistry-Biology Interface (CBI) training program in Quantitative and Chemical Biology (QCB) marries deep disciplinary training in one of six Ph.D. programs on the Bloomington campus with broad interdisciplinary training at the traditional boundaries of chemistry, physics and biology.
QCB News
The 10th Annual Watanabe Symposium in Chemical Biology
October 15, 2019
The Watanabe Symposium honors the late August "Gus" Watanabe, a renowned physician, researcher and professor who led research and development at Eli Lilly and Company for nearly a decade, and who was a pioneer in the study of the cellular mechanics of the heart. IN 1994, Watanabe assumed the role as President of Lilly Research Laboratories and is responsible for launching eleven new and pivotal pharmaceutical products.
Invited speakers this year:
R. Graham Cooks, Purdue University
Jirong Lu, BioTechnology Discovery Research; Eli Lilly and Company
Tom Muir, Princeton University
Jackie Papkoff, Senior Vice President and Chief Scientific Officer – Microbiome; Assembly Biosciences
Michael Sofia, Chief Scientific Officer; Arbutus Biopharma
Fall QCB Evening, October 7, 2019
September 30, 2019
Join us for the Fall QCB Evening on Monday, October 7th from 5:30-7:00pm in Chemistry C001. Chelsea Rintelmann (Pohl Group) will give her talk, "Polydivergent library-oriented chemical synthesis of high-mannose N-glycans", and Brian Fisher (Lewis Group) will give his talk, "From helical foldamers to genome-minded halogenase biocatalysts".
Food and beverages will be served.
IU Career Development Symposium August 5-6th
July 12, 2019
Please join us for the 5th Annual Career Development Symposium.
The IU CDS aims to provide our chemistry graduate students and post-docs with insights into available career paths as well as opportunities to establish contacts with potential employers. This graduate student led event will facilitate dialogue between successful professional, potential employers, and students to generate excitement and alleviate confusion in the search for a path after graduate school.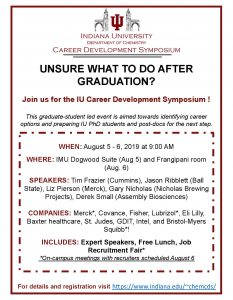 NIGMS Support and Fellowship Competition Announcements
June 25, 2019
Our training program has been awarded new financial support by the National Institute of General Medical Sciences (NIGMS) for five years, July 1, 2019- June 30, 2024. Generous matching support by the College of Arts and Sciences and the University Graduate School at Indiana University has been provided as well.
Also, the QCB TP Steering Committee is pleased to announce five (5) new fellowship appointments and four (4) reappointments for the upcoming 2019-2020 academic year.
Four two-year NRSA fellowships were awarded to upcoming second year students, Kristen Alanis (Baker group), Kelly Hartsough (Walczak group), Liam Scott (Dragnea group), and Yasmine Zubi (Lewis group).  One one-year fellowship awards were made to rising third-year student Abigail Garrett (Winkler group). Their photos and biographical information are forthcoming!  Check back to our Current Trainees page!
Four additional trainees were re-appointed to their second year of support: Brooke Brown (Clemmer group), Rachel Fadler (Flood group), Lily Klapper (VanNieuwenhze group), and Matthew Jordan (Giedroc group).
Congratulations to all!