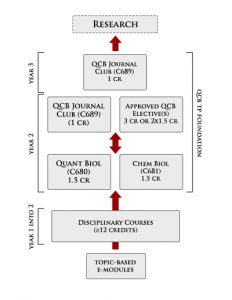 We have designed our curriculum to be value-added on a core disciplinary program of study, while satisfying the requirements of a university-approved graduate minor in Chemical and Physical Biology (CPB).  This allows us to support prospective trainees in their second and third years of graduate school, after completing many of their core disciplinary requirements in one of six departments or programs, from which they earn the Ph.D.  These include biochemistry, biology, cell, molecular and cancer biology (CMCB), chemistry, neuroscience, or physics. The QCB training program is schematized in the figure right and is managed by the Curriculum Committee.
---
Dissertation Research
Develop a research project that is tailored to your interests and features some aspect of broad, interdisciplinary training.
---
E-Learning Modules
QCB trainees continue to develop learning assist e-modules under the direction of co-Director Pohl as part of CHEM C681.  These e-modules now include terpene biosynthesis, high-throughput screening methods, molecular imaging, natural products and biological targets, and oligosaccharide synthesis.
Please check back for additional e-modules currently under development!
---
Introduction to Chemical Biology I (CHEM C681)
This course serves as the foundation to concepts and approaches at the chemistry-biology interface.
---
Introduction to Quantitative Biology and Measurement (CHEM C680)
This course is an introduction to important concepts, technologies and methods in structural biology and biophysical chemistry that are used to explore the physical biology interface.
---
Students are partnered with individual QCB trainers to lead the discussion of a paper or papers at the forefront or research in Quantitative and Chemical Biology.
---
Round out your QCB training experience with a university-approved minor in Chemical and Physical Biology (CPB) by earning 3 cr from a wide selection of 1.5- and 3-cr elective courses to suit your research interests.