Our Chemistry-Biology Interface (CBI) training program in Quantitative and Chemical Biology (QCB) marries deep disciplinary training in one of six Ph.D. programs on the Bloomington campus with broad interdisciplinary training at the traditional boundaries of chemistry, physics and biology.
QCB News
Spring QCB Evening, Monday April 1st
March 21, 2019
Join us for the Spring QCB Evening on Monday, April 1st from 5:30-7:00pm in Chemistry C033. The QCB Ambassadors will host a panel covering the ins and outs of the QCB Fellowship program, career timeline planning, grant writing, networking, and other campus resources to help STEM graduate students begin building their careers.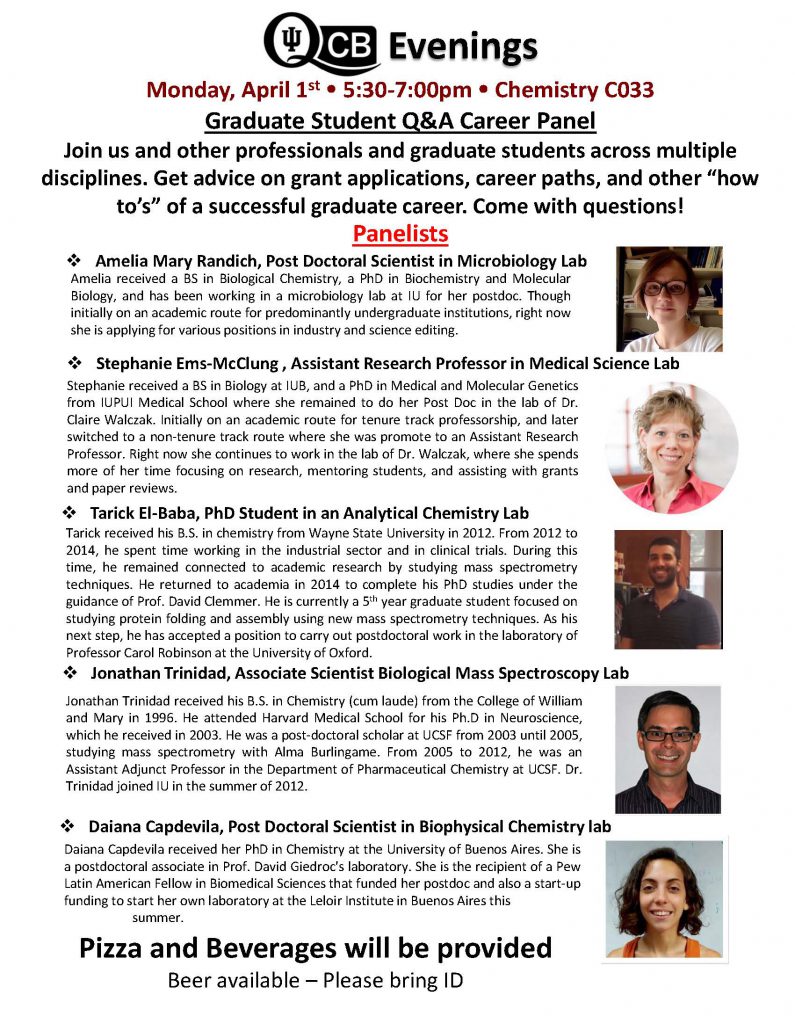 Spring Travel Awards
December 5, 2018
Congratulations to Brenna Walsh (Giedroc lab) for receiving two travel awards! She received the Provost's Travel Award for Women in Science and the Fall College of Arts and Science Travel Award to attend a Gordon Research Conference and Seminar in January.
2018 Women in Science Conference
November 6, 2018
Congratulations to Kate Selivanovitch (Douglas lab) on receiving a first place Oral Presentation Award at the 2018 Women in Science Conference held at Notre Dame University. Kate also received a travel grant to attend and share her work at the conference.
Last QCB Evening of the Fall 2018 Semester
November 2, 2018
Join us for another QCB Evening on Monday, November 5th from 5:30-7:00 pm in Chemistry C033. Talks will be given by current QCB Trainees, Paul Marcyk (Cook lab) and Jhavni Sharma (Douglas lab). Pizza and beverages will be provided.
9th Annual August M. Watanabe Symposium in Chemical Biology: Virology and Antivirals
October 3, 2018
We would like to invite you to the 9th Annual August M. Watanabe Symposium in Chemical Biology: Virology and Antivirals.
The Watanabe Symposium will be held on the campus of Indiana University, Bloomington, IN, in the Department of Chemistry on Saturday, October 20, 2018. This year the emphasis will be on virology and antivirals. A light breakfast will be available starting at 8 am and the first presentation begin at 8:50. Talks and posters continue through the day to 5:00 pm. There is a wonderful list of speakers, so we encourage you to join us. You can follow the link below to register for the event. Priority will be given to QCB Trainer Labs for Poster Session.
Invited speakers this year:
Paul Ahlquist, University of Wisconsin, Madison, HHMI
Steve Harrison, Harvard Medical School, HHMI
Priscilla Yang, Harvard Medical School
Z. Hong Zhou, UCLA
Registration: https://iuqcb.indiana.edu/events/watanabe-symposium/
Agenda and speaker bios: 2018 Watanabe Symposium Program
The Watanabe Symposium honors the late August "Gus" Watanabe, a renowned physician, researcher and professor who led research and development at Eli Lilly and Company for nearly a decade, and who was a pioneer in the study of the cellular mechanics of the heart. IN 1994, Watanabe assumed the role as President of Lilly Research Laboratories and is responsible for launching eleven new and pivotal pharmaceutical products.